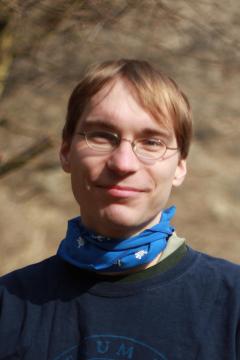 Buď mi můžete poslat na mail zprávu pomocí kontaktního formuláře níže, anebo můžete využít nějaký z následujících způsobů:
You can send me e-mail using contact form below or You can use some of the following possibilities:
El. mail:

vojta_-'at"-_trapa_-'dot"-_cz

Jabber:

vojta_-'dot"-_sc_-'at"-_njs_-'dot"-_netlab_-'dot"-_cz (Toto NEní e-mail! / This is NOT e-mail!)

Skype:

vojta-sc

Elektronický klíč (Electronic GPG key)

Pokud se mnou chcete komunikovat důvěryhodně nebo přímo zabezpečeně, použijte tento GPG klíč (use this GPG key).
Keyservers: https://pgp.mit.edu/, https://keyserver.ubuntu.com/, etc.
Pro bližší informace o této technologii se podívejte např. na https://gnupg.org/, Jendův paranoidní blog nebo Wiki.